KT-401H Mini Air Ion Tester can be used to test the presence of air negative ions. Good for product promotion. Easy to operate and use. Quick measurement. There is no complicated setting required.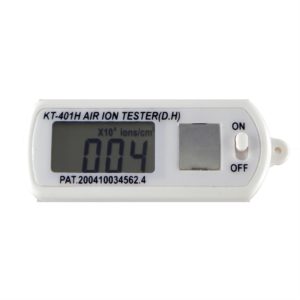 Source: http://gmm.com.sg
Display
. LCD Display: Max reading of 1999
. Overflow and display only "1"
. Low battery indication
Functions
. Test range is between 1×10,000 to 1,999×10,000 ions/cc
. Resolution: 10,000 ions/cc
. Data Hold button to hold the measurement reading
. The Blue Clip Armband for grounding to make the test reading stable
. Tiny shape
. Very easy to hang as a necklace
. Display concentration of positive and negative air ion
. Check Ion Generator
. Test the textile or cloth, judge the ion's polarity and concentration
. Attention: don't touch the rear square metal of the tester when testing
. Power supply: 1.5v x 2 LR44 button size battery
. Dimensions: 78mm (L) x 27mm(W)x 9mm(H)
Introduction
This Air Ion Tester is designed for test high level concentration of negative or positive air ion.  The blue clip is a ground connector to make the test reading stable. One end of clip hang on the hand, the other end clamped ground line or water tap.
It is effective to test the electric charge on the surface of textile. With it you can estimate whether the air ion generator or air purifier is working. The reading of this tester is correlative to the air ion concentration, but not exactly the number of it. This tester can only provide you a rough measurement to the air ion source. Please do not take it as an precision instrument.
Operation
. Put the switch to ON position
. Keep your finger touch on the square metal of the front panel and approach to the air ion generator. The result is higher if the tester is
close to the ion generator. But don't be too close to avoid influencing the test result.
. Do not touch the rear square metal of the tester when testing. There is an induction panel on the back.
. If the reading displays "+", the means the ions are positive; if it displays "-", it means the ions are negative.
HEALTH PRODUCTS THAT GENERATES HIGH LEVEL OF NEGATIVE IONS
Reltec Air Ionizer Generator (AirCleanerSingapore.com)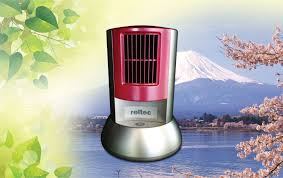 Negative Ion Clothing (NegativeIonClothingSingapore.com)
KT-401H Mini Air Ion Tester